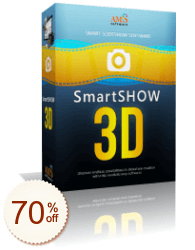 SmartSHOW 3D 30% Off
SmartSHOW 3D Customer Q & A (12)
🔔 Warum ist Smartshow 3d nicht mit 50 fps und 4 k verfügbar
Answer
Danke, für ihre Frage. Mit der aktuellen Version von SmartSHOW 3D können Sie Videos mit einer Auflösung von bis zu 1920x1080 und einer Bildrate von bis zu 30 erstellen. Wir haben Ihre Anfrage jedoch an den Projektmanager von SmartSHOW 3D Team weitergeleitet und dieser kann eine Option hinzufügen option Erstellen Sie in zukünftigen Versionen 4K-Videos mit 50 fps. Wenn Sie weitere Fragen haben, lassen Sie es mich wissen. -By Google Translate
Thank you for your question. The current version of SmartSHOW 3D allows you to create videos with a resolution of up to 1920x1080 and a frame rate of up to 30. However, we've forwarded your request to the project manager of SmartSHOW 3D Team and they may add an option to create 50fps 4K videos in future versions. If you have any further questions, please let me know.

🔔 Hello,I have just bought and installed SmartSHOW 3D Deluxe Edition on my computer. Before that I had the free trial version, but I uninstalled it a day or two before the purchase. So the trial version was not present on my computer at the time of purchase. However, when I downloaded and installed the purchased version (from the link in my email), it said "3 days remaining". It was the same window I used to see whenever I opened the trial version! I entered the license key and it was accepted, so it looks like I'm using the purchased version now. However, according to information I found on Internet a while ago, the trial version is actually a Standard version of the product. The Deluxe version should have much more features (transitions, animations etc.). Why is then everything the same as in the trial version? If the trial version was Standard, and I have just bought the Deluxe version, should there not be some differences between the two? Could you please explain it to me? Thank you in advance.
Answer
Dear Customer,
Thank you for your question. There are differences between SmartSHOW Standard and Deluxe Edition. The Deluxe version covers more features than the Standard version, including add video clips and footage to the slideshow, and burn the slideshow to DVD. If you don't find those features in your SmartSHOW Deluxe Edition, you may contact SmartSHOW 3D Support Center for the installation problems. If there's still anything I can do to help you, please let me know.

🔔 En cuantos equipos puedo usar la misma licencia ???
Answer
The license allows you to install one copy of the software on one computer. You can transfer it to another computer in emergency cases such as a hard disk crash, or when you buy a new computer.If you plan to use the software on more than one machine at a time on a regular basis, then you should purchase a separate license for each.

🔔 AMIG@ BUEN DÍA, ME INTERESA LA VERSIÓN STANDARD, QUIERO SABER CUALES SON LOS MÉTODOS DE PAGO??
Answer
Dear customer,The supported payment methods are Credit/Debit Card and PayPal.

🔔 How long does it take to get a registration key?
Answer
Dear customer,Thanks for your question. Once your order is validated, you will receive an email with download instructions and the registration code. The registration email typically arrives within a couple of minutes after the payment. If there seems to be a delay, we recommend that you check your spam folder, or contact our support team with your order ID.

🔔 За колко месеца е пълната версия
Answer
Dear customer, Thanks for the question. The full license is a lifetime license.Уважаемый клиент, Спасибо за вопрос. Полная лицензия - это пожизненная лицензия.

🔔 Bonjour,
Le logiciel est beaucoup moins cher qu'ailleurs , est il complet ?
Est il en français ?
Je vous remercie.
CAPOBIANCO Céline
Answer
Dear CAPOBIANCO,Thanks for your question.
1, All products we sell at colormango.com are full version, and we are an affiliate and reseller of the official developers.
2, This product supports French versionIf still any questions, feel free to contact me.Best Regards,

🔔 combien de diapos peut on chaeger sur version standard?
Answer
Dear customerThanks you for your question..There is no set limit to the number of slides, but there will certainly be some reasonable limitation depending on your computer performance, the amount of RAM, the graphics card etc.
If there is anything else I can assist you with, please let me know.Thank you,
LenseyTranslated by the Google TranslationBonjour,il n'y a pas de limite au nombre de diapositives, mais il y aura certainement une limite raisonnable en fonction de votre ordinateur, le montant de la ram, les cartes graphiques, etc.s'il y a autre chose que je peux vous aider, faites - le moi savoir.merci,
lensey

🔔 bonjour, je viens d'acheter la version deluxe et lorsque je saisi la clé j'ai le message d'erreur suivant
"aucune réponse du serveur. activez en contactant l'assistance technique"
que dois je faire? Ayant payé ce logiciel, il me tarde de l'utiliser rapidement.
Merci de votre retour rapide
Answer
Dear customer,Error 734 means that you are trying to activate the free demo version downloaded from the program website. The demo version cannot be activated.Please follow these steps:1. Uninstall the demo version completely.
2. Download the full version via the link from your registration email
3. Activate the full version with your license key.If the problem persists, please contact us providing your order ID number and the license key used.Thank you,
LenseyTranslated by the Google Translation,Cher client,Erreur 734 signifie que vous essayez d'activer la version de démonstration gratuite téléchargée à partir du site Web du programme. La version de démonstration ne peut pas être activée.S'il vous plaît suivez ces étapes:1. Désinstallez complètement la version de démonstration.
2. Téléchargez la version complète via le lien de votre email d'inscription
3. Activez la version complète avec votre clé de licence.Si le problème persiste, veuillez nous contacter en indiquant le numéro d'identification de votre commande et la clé de licence utilisée.Je vous remercie,
Lensey

🔔 bonjour,
j'ai acheter le produit mais quand je veux l'ouvrir sa me dit qu'il n'ai pas compatible avec mon pc alors que je suis sous windows 8
Answer
Dear customer,The product SmartSHOW 3D is Compatible with Windows 10, 8, 8.1, 7, Vista, XP.
Please give me more details about the problems you get, better a screenshot, that we can forward your problem to the developer, or you can directly contact the developer's tech support here: http://smartshow-software.com/support.phpThank you,Translated by the Google Translationcher client,le produit smartshow 3d est compatible avec windows, 10, 8, 1, 7, vista, windows xp.veuillez me donner plus de détails sur les problèmes que tu as, un instantané d'écran, que nous pouvons avancer votre problème au promoteur, ou vous pouvez communiquer directement avec le promoteur http://smartshow-software.com/support.php support technique:merci,

🔔 bonjour pourquoi le prix en euros sur le descriptif est différant du prix afficher a la commande24,84 EUR eu lieux de EUR 23,01
Answer
Dear customer,Thanks for your question. The price of the product SmartSHOW 3D is in US dollars, and the actual price may vary depending on exchange rates.If still any questions, feel free to contact me.Thank you,
lenseyTranslated by the Google Translation:
Cher client,Merci pour votre question Le prix du produit SmartSHOW 3D est en dollars américains et le prix réel peut varier selon le taux de change.Si encore des questions, n'hésitez pas à me contacter.Merci,
Lensey

🔔 Bonsoir. Ce logiciel permet il la gravure sur dvd?Ce logiciel est il compatible avec Windows 10?
Merci pour vos réponses
Answer
Dear cutomer,Thanks for your question. The product SmartSHOW 3D allows you to convert photo movies to any video format or burn to DVD, and it is compatible with Windows 7/8/10.If still any questions, feel free to contact us.Best Regards,
lenseyContent translated by Coogle Translation,Cher Cutomer,merci pour votre question.le produit smartshow 3d permet de convertir les films au format vidéo ou photos brûler sur dvd, et elle est compatible avec windows 7 / 8 / 10.si encore des questions, n'hésitez pas à communiquer avec nous.meilleures salutations,